I started my week out great! I met a girlfriend Monday morning at a coffee shop called "The Grind." We both had things to do, so we said we could only meet for an hour. So we talked, talked, laughed, talked some more, and when we looked up two hours had gone by! Wowser! She had to be someplace, and I had my own set of "honey dos" to do! We both scurried out of there like two little squirrels being chased by a bear!
That afternoon, I saw the doctor about my (pain in the butt) right glut. She couldn't figure it out, so she gave me some stretching exercises and told me to take four Advil every eight hours. Then she said I should go to a podiatrist and get all my calluses removed. Well! Thankyouverymuch!!!!
Tuesday, I worked at a temp job answering seven phone calls in eight hours. The rest of the time, I checked my email, read blogs, made a honey-do list for Wednesday and read some more emails. Katya, who is in China right now, emailed me and said she couldn't get her cell phone to work and would I contact the phone company.
"Oh, brother!" I said to myself...here's another one of those 45 minute phone calls where I will probably speak to every single employee in that office! I decided to try to avoid that situation and stopped off at one of the stores of the phone company. The guy at the store made a phone call, and ended up handing it off to me. They got me anyway! We set up the international plan and I was given instructions on how to implement it and get into voicemail. I wrote Katya back that night with all of the instructions. It didn't work. I guess it was just too many steps for her to go through. "I JUST WANT TO TURN ON THE WATER AND HAVE IT COME OUT. I DON'T CARE WHERE IT COMES FROM, I JUST WANT IT TO COME OUT OF THE SPOUT!" Dian Keaton from "Baby Boom."
Katya said she would just email me as often as possible. I'm getting updates on all the drama of the "South Beach" girls. I can't repeat what Katya said, but I was rolling on the floor laughing. I can see a new Reality show brewing!
The best thing that happend this week was when I found out I WON A CONTEST!! I so very rarely win contests. On my other blog (No Excuses), I wrote about a Tooth Fairy incident that happend to my son Rock when he was around 10. Click
here
to read the story, and click here to visit
Supah
who was hosting the contest. My story won first place and I am going to receive some wonderful dental items: Tooth Soap (it is not what you think) Tooth Swish and Tooth Brightner. Click on the logo below to find out more about the products from the company that makes them.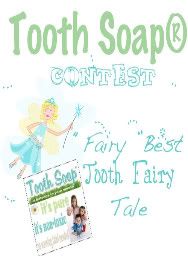 To go along with my story, let me show you a picture of Rock around the time he was ten. A real buster, isn't he?? It's the freckles that make him bad! (Notice the clenched fists - he had dirt under his nails!)
Well, there you have it! My second contribution to Fragmented Fridays, hosted by the incredibly awesome
Mrs.4444
. Click on her name to get to the main page of her blog, and click on the logo, below to get to her post for Friday Fragments #99!
Have a great weekend!